During the previous half hour, there was light rain, but thankfully rain stopped altogether before the demonstration itself began.
A month ago, Shmuel Katz, a deaf-blind man, was killed in this train station in a train accident. The root cause of the accident was lack of accessibility of information to people, who are blind, deaf or deaf-blind.
Therefore, the various organizations of and for the deaf and the blind organized a demonstration to get Israel Railways to solve the accessibility problems in Israeli trains for people with cognitive disabilities. And it was this demonstration, which I attended.
While on way to the demonstration, I exchanged SMS messages with a deaf friend, who is usually a staunch fighter for Deaf rights. Today he was reluctant to go to the demonstration, because he felt uneasy campaigning for the deaf and the blind while our dear PM, Ariel Sharon, is comatose in hospital due to massive stroke and bleeding. I pointed out that he is not currently dead and may still recover, whereas Shmuel Katz shows no signs that he'll ever come back to life from the world of the dead.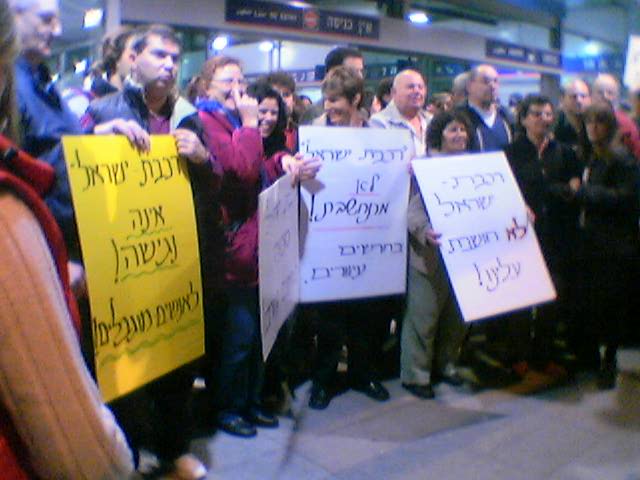 During the demonstration, I mingled with the people and took photos. There were speeches, but usually I did not bother to listen to them.
, a staunch advocate for accessibility to people with disabilities, honored the demonstration with his presence.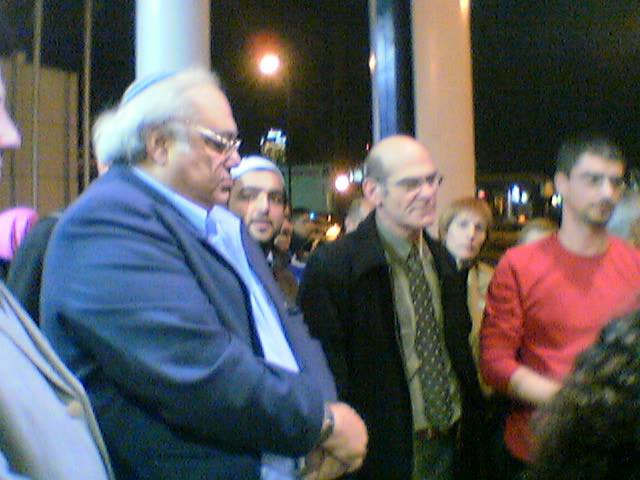 There was a wheelchair bound man pleading that Israel Railways not forget him.
I wrote about the accident and about the planned demonstration .
The Web site of Beth David Institute (the Center for Deaf-Blind Persons) is at http://www.cdb.org.il/english/.